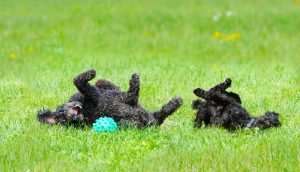 By: Maddie Nolley
National Puppy Day
Today (March 23rd) is National Puppy Day. Here at The Doggie Depot of VA, we encourage and support adopting your animal from a shelter or rescue group. The number of animals pouring into a shelter every year is disturbing. ¹About 3.3 million dogs enter a shelter nationwide every year.¹ These figures may vary from state to state. Regardless if that is an estimate or not, that is a ridiculous number, something has got to change. Homeless animals outnumber homeless people 5 to 1. According to statistics, the number one reason animals are in shelter is due to owner surrender caused by behavioral issues, expensive medical costs, moving, etc. It can be very fulfilling and heartwarming to save a dog from a shelter, but you also want to take the right steps to feel confident that the animal you are choosing will suit your needs. You don't want the animal to end back at the shelter because they aren't the right member for you and/or your family.
Questions to ask when adopting a dog:
Why/How did this dog end up here?
Are there any known medical issues?
Is this dog aggressive towards others/children?
Are they housebroken? (Despite having to use their kennel due to not getting out as much as they will in a permanent home)
What are the personality traits that you have noticed while working with this dog?
Does the dog listen to basic commands?
How active are they when taken out?
These are a few examples of questions you could ask. Get to know the dog, most shelters will let you spend time with the animal before adopting. If you have any pets, you can also ask if you can bring your animal(s) in the facility, so that they can meet. Many rescue groups require this. Keep in mind, even when getting a dog from a respected and trusted breeder, the dog does not come with a guarantee. Thus, any animal can have behavioral issues, and any puppy needs training and attention. Try not to discredit a shelter dog due to their circumstances.  Pets are without a doubt a commitment. Plan when making the decision to get a new dog. If you do want to add a new family member we encourage you to adopt, as well as get your animals neutered and/or spayed.
¹© 2017 American Society for the Prevention of Cruelty to Animals