Or My List of 10 Help Owners Keep Their Sanity Right Now Dog Books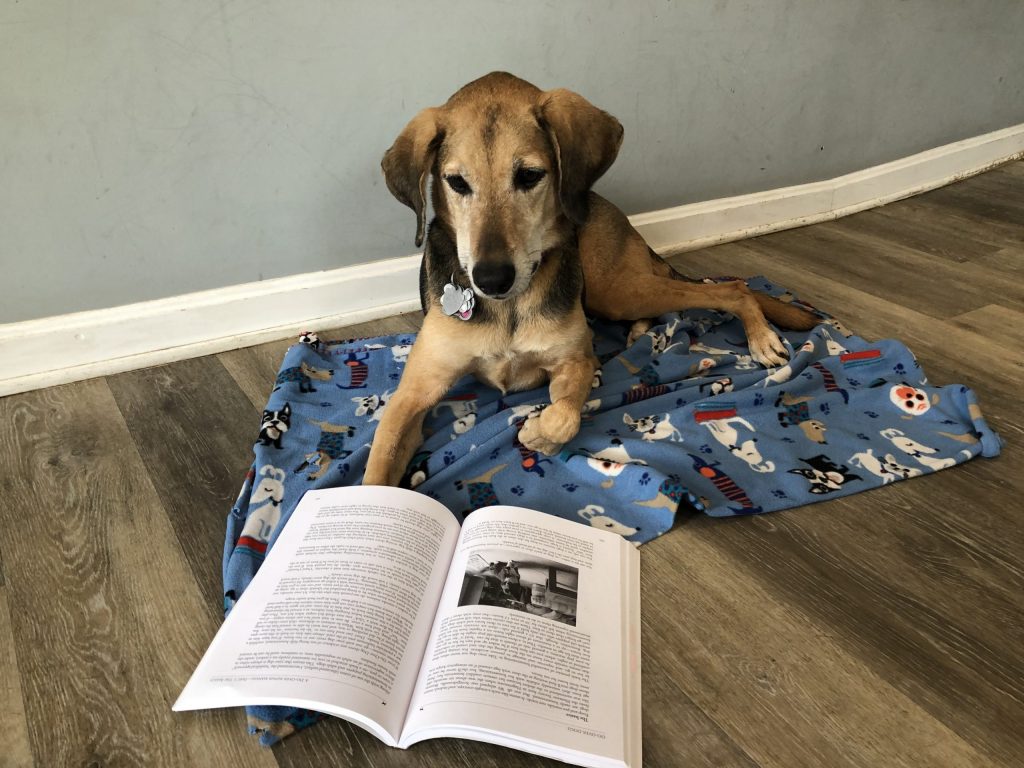 While I do have books on my coffee table and on my bookshelf geared towards the experienced dog trainer and covering specific training topics, the following list includes books anyone can read. Whether you're thinking about getting a dog, have just gotten a dog or have owned a dog for many years, take a look and find your next read!
10. The Do No Harm Dog Training and Behavior Manual – by Linda Michaels
This is a concise e-manual written by Linda Michaels. Linda has also created the Hierarchy of Dog Needs, based upon Maslow's Hierarchy of Needs. This is a high-level overview of common training topics including training supplies, greeting visitors, wait/stay and loose-leash walking. There is also a Do No Harm Training FaceBook Group for additional support. Click here to purchase from Gumroad.com.
9. Easy Peasy Puppy Squeezy: Your Simple Step-by-Step Guide to Raising and Training a Happy Puppy – by Steve Mann
An easy to read and understand book for new and expectant puppy owners. Steve is the founder of the Institute of Modern Dog Trainers and walks owners through exercises with clear instructions and a touch of humor. Click here to purchase on Amazon.
8. The Other End of the Leash – by Patricia B. McConnell, Ph.D.
If you've ever believed that you need to be "dominant" or an "alpha" in order to train your dog, please read this book. Patricia explains why and how to have fun with your dog in way to engage them as part of your family. You'll learn how to understand and communicate better with your dog without using force. Click here to purchase on Amazon.
7. Don't Shoot the Dog! – by Karen Pryor
Just as the title implies, if you were ever ready to throw in the towel, read this book. It is a little more verbose than the others and centered around training theory. However, there are great explanations as to why and how to train the most common behavior issues. Click here to purchase from Dogwise.com.
6. After You Get Your Puppy – by Dr. Ian Dunbar
Written as a guide to help you through the first few months after bringing your puppy home, this e-book will help you make it through potty training, leaving your puppy home alone, socialization, handling and basic manners. Download the book for free here.
5. Before You Get Your Puppy – by Dr. Ian Dunbar
Thinking about getting a puppy? Read this e-book as a pre-curser to "After You Get Your Puppy" to learn how to choose a breed, whether to get a puppy or adult, select a rescue or breeder, how to find a breeder and then prepare your home and yourself. Download the book for free here.
4. Canine Body Language: A Photographic Guide – by Brenda Aloff
Have you ever had trouble deciphering whether dogs are playing or beginning to get into a scuffle? This heavily photo laden book will show you how to read your dog's body from mouth to tail. At the end, you can quiz yourself to see if you can understand how dogs communicate through visual cues. Click here to purchase on Dogwise.com.
3. Wag: The Science of Making Your Dog Happy – by Zazie Todd
A newcomer to the book world, Wag will help you grow your relationship with your dog and ensure their happiness by addressing anxiety, adding enrichment and easing you and your dog through their senior years. Though it is not a training book, it does provide insight into your dog's behaviors. Click here to purchase on Amazon.
2. Canine Enrichment – by Shay Kelly
Dogs need more than exercise and training to keep them busy. They also need enrichment. You've purchased a Kong but what else can you do to stimulate your dog's brain? Check out this book for hundreds of ideas to have fun with your dog, including non-food options. Shay also runs a Canine Enrichment Group on FaceBook where even more ideas are posted. Click here to purchase on Amazon.
1. Do Over Dogs – by Pat Miller
This is my go-to book for owners struggling with their dog's behaviors. Whether you've had your dog since they were eight weeks old or you just rescued your dog, this book has advice to help get past the challenges and realize you're not alone. While this book does address some basic training, it centers more on behavioral concerns such as resource guarding, separation anxiety and fearful dogs. Click here to purchase from Dogwise.com.
Bonus!
Just released this past fall, Doggie Language: A Dog Lover's Guide to Understanding Your Best Friend, written by Lili Chin. You have seen many of Lili Chin's free infographics shared on our page and posted at our facility. This is an easy-to-read book that can be shared with children. Click here to order!
Grab a cup of coffee, sit in your favorite chair, cuddle your dog and start reading! And as always, you don't need to rely on books for training your dog. Please reach out to me or another qualified force-free trainer for assistance.
Laura Schleef is the Owner and Head Trainer at the Doggie Depot of Virginia. When not training or playing with other people's dogs, you can find her snuggling with her Border Collie mix Rocky and keeping her German Shepherd/Beagle cross Gidget from trying to eat all of Rocky's treats. She has been training dogs in multiple capacities for over 15 years and finally quit her "day job" in 2016 to pursue her passion full-time. In addition to shadowing other trainers, Laura has received certifications through Karon Pryor and Dr. Ian Dunbar force-free training programs.